Premier Banks 20th AGM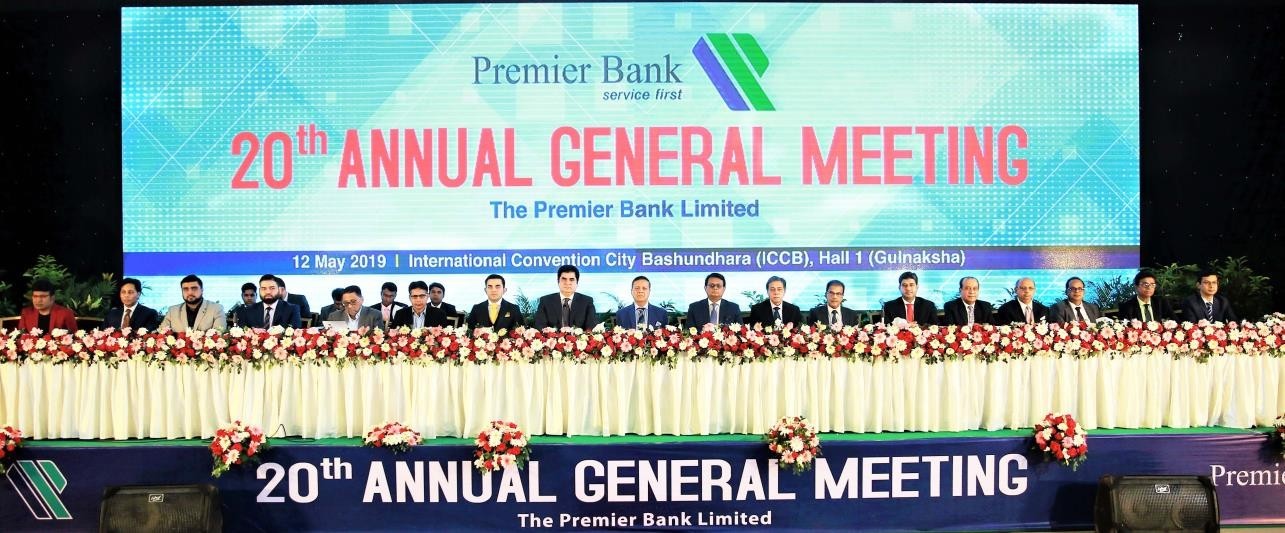 The Premier Bank Limited, one of the renowned and established private commercial banks in Bangladesh, has declared 15.50% dividend for their shareholders. In the 20th Annual General Meeting held in International Convention City, this dividend has been declared. Honorable Chairman of the Bank Freedom Fighter, Dr. H. B. M. Iqbal, Vice Chairman Moin Iqbal, member of the Board of Directors Abdus Salam Murshedy, MP; Mohammad Imran Iqbal, Shafiqur Rahman, Jamal G Ahmed, Shah Md. Nahyan Haroon, Independent Director Chowdhury Jafarullah Sharafat, Honorable Advisor Muhammed Ali, Managing Director & CEO M. Reazul Karim, FCMA were present along with shareholders.
As the president of the ceremony, Dr. H. B. M. Iqbal, the honorable Chairman of the Bank informed the shareholders that during the year 2018 the Bank earned operating profit of Tk.610 Crore, which is a reflection of 40% growth compared to that of 2017. The Chairman appreciated the support of the Board Members and the effort made by the Management team to bring about improvement in the operations of the Bank.
The Managing Director & CEO of the Bank Mr. M. Reazul Karim, FCMA appreciated the effort and the continuous support given by the employees and the shareholders of the bank.
Among others, Additional Managing Directors Md. Abdul Jabber Chowdhury & Golam Awlia, Consultant Ambassador Nazimullah Chowdhury; Executive Director Abu Haniff Khan, Deputy Managing Directors Syed Nowsher Ali, Shamsuddin Chowdhury, Shah Alam and Company Secretary Mr. Mohammad Akram Hossain were also present in the occasion.