Premier Bank Celebrates 18th Anniversary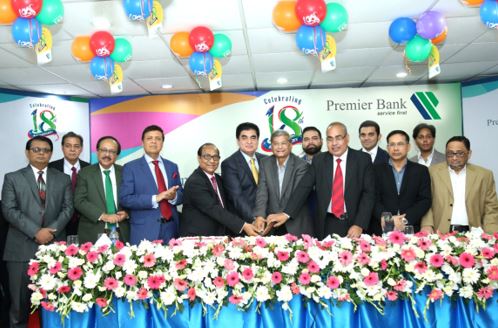 The Premier Bank Limited celebrated it's 18th anniversary at Bank's Head Office in Dhaka on Thursday, October 26, 2017 with a commitment to serve the people and contribute to national development, the bank said in a statement.
Chief Guest, Honorable State Minister Mr. M. A. Mannan, MP, Ministry of Finance, Government of the People's Republic of Bangladesh, Freedom Fighter and Ex MP Dr. H. B M. Iqbal, Hon'ble Chairman of the board of directors of The Premier Bank Limited and Hon'ble Special Guest Mr. Md. Abul Bashar, General Manager,Financial Inclusion Department, Bangladesh Bank cut a cake as part of the celebration in presence of Media Representatives, well-wishers and Board of Directors & Member of senior Management.
A corporate documentary on the bank was screened at the programme, highlighting the bank's activities and performance including its role in bringing unbanked population under the banking network through Launching of Premier Bank Agent Banking Service in presence of Hon'ble Chief and special guests.
Vice Chairman of the Bank Mr. Mohammad Imran Iqbal, Hon'ble Director Mr. B.H. Haroon MP & Mr. Abdus Salam Murshedy, Ex-Vice Chairman & Sponsor Shareholder Mr. Moin Iqbal, Director Mr. Jamal G. Ahmed,Advisor Mr. Muhammed Ali, Managing Director & CEO Mr. Khondker Fazle Rashid, Consultant Mr. Ehsan Khasru, Additional Managing Director Mr. M. Reazul Karim were also present on the auspicious Occasion.
Mr. Mannan reminisced about the beginning of The Premier Bank limited in 1999 while addressing the function as the chief guest and said he was happy to see the success of the bank.
Dr. H.B.M. Iqbal, chairman of the bank, express his gratitude to all shareholders, clients, well-wishers, regulators for their continued support and trust in premier bank. He also thanked the Bank's past and present employees for their dedication, innovation and hard work also added that they will take banking services to the grassroots within shortest possible of time and hoped the economy will witness a significant transformation.