Premier Bank and Ernst & Young LLP signed an agreement for Core Banking System Audit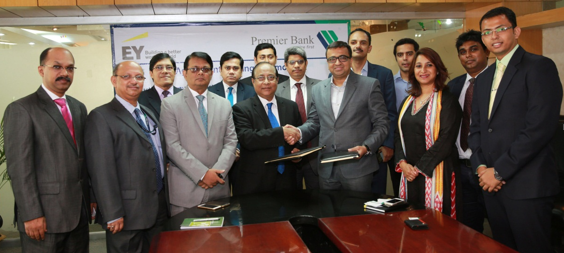 Mr. Khondker Fazle Rashid, Managing Director & CEO of Premier Bank and Harish Agarwal, Managing Partner of Ernst & Young have signed an agreement on behalf of their organization for conducting Information System Audit for Core Banking System.
Mr. M Rezaul Karim, AMD ; Mr. Syed Nowsher Ali, DMD;  Mr. A. S. M. Khairuzzaman, SEVP & CIO, Mr. Mahbubul Alam Tayiab, SEVP & CICCO, Mr. Shahnawaj Chowdhury, EVP & Head of Operations, Mr. Md. Mashuqur Rahman, VP & Head of IT and Mr. B. M. Shahrier Majumder, SAVP & Head of IT Project Management of Premier Bank; and from EY S. Dinesh, Director; Ms. Rumesa Hussain, Associate Director and Mr. Md. Muiz Tasnim Taqui, Assistant Manager also present in the ceremony.