Half Yearly Managers Conference -2016 of the Bank held at Head office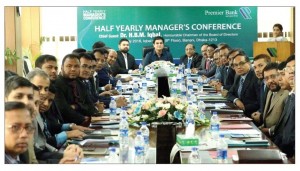 Premier Bank's honorable Chairman Dr. H.B.M. Iqbal inaugurated the Bank's Half Yearly Managers Conference-2016 at Iqbal Center, Head Office, Banani Dhaka as Chief Guest and Mr. Mohammad Imran Iqbal, honorable Vice Chairman of the Bank as special guest was also present in the conference.
Khondker Fazle Rashid, Managing Director & CEO, Mr. Md. Ehsan Khasru, Advisor of the Board of Directors of the bank, Additional Managing Directors, Mr. Abu Haniff Khan & Mr M. Reazul Karim; Deputy Managing Directors, Mr. Syed Nowsher Ali, Mr. Sami Karim, Mr. Shamsuddin Ahmed, Mr. Shah Alam and all Branch Managers along with all Divisional Heads of the bank were the key participants on the occasion.
It is mentionable that Premier Bank achieved remarkable success in half yearly deposit, advance and profit. In the conference, all Executives and Managers promised that they will give their best efforts to increase Loan & advance and reduce classified loans.