Dr. H.B.M. Iqbal received Prestigious International Mother Teresa Award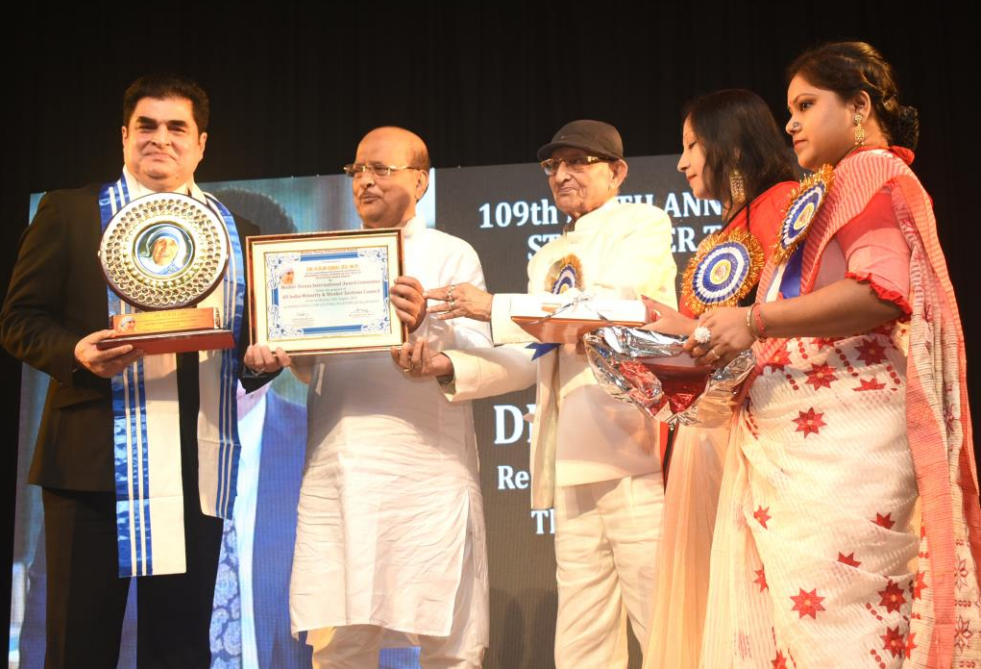 The founder chairman of "Premier Group, Premier Foundation and the Premier Bank Limited", Freedom fighter Dr. H.B.M. Iqbal has been awarded 'Mother Teresa International Award' for contributing in country's education sector and economic development on the evening occasion of 109th birthday, (Monday 26th August) of Mother Teresa in Satayjit Ray Auditorium, Kolkata.
Honorable cabinet minister Sri Shadhon Pandey has handed over the award to Dr. Iqbal on behalf of the Mother Teresa International Award Committee. The chairman of the committee Mr. Anthony Arun Biswas was also present in the ceremony and former Justice Shyamal Kumar Sen was also present as special guest.
While receiving the award, Dr. H.B.M. Iqbal (Ex MP, Tejgaon-Ramna, Dhaka) said, "Award is always a feeling of joy, I have received many awards for different social activities. But today I am much inspired and grateful for being awarded by Mother Teresa Committee who has given me this priceless honor. I am dedicating this award to the people of Bangladesh."
To develop the education sector of this country, Dr. H.B.M. Iqbal has established Dr. H.B.M. Iqbal Education City in Bashgari, Bhairab which includes School, College, University, Nursing Institute, Medical College and Hospitals, Engineering College, Sheikh Hasina Science and Technology University, IT park and Sports Academy etc. Meanwhile, Premier Bank established by Dr. H.B.M. Iqbal has been able to contribute in the nation's economy.
The host of the program Mother Teresa International Award Committee has been giving this award for those people who have contribution in different social sectors from home and abroad. In previous year, many renowned individuals had got this award like Late Sri Jyoti Basu, The former chief minister of west Bengal; Mrs. Hillary Clinton, Former Secretary of State of United States of America; Sheikh Hasina, Honorable Prime Minister of People's republic of Bangladesh; Dipu Moni, Former Foreign minister of Bangladesh; Late Rajesh Khanna; Hema Malini; Late Girija Prasad Koirala, Former Prime Minister of Nepal; Late Sri Bhupen Hazarika and many more.