Awareness building workshop for MANCOMM members at PBL HO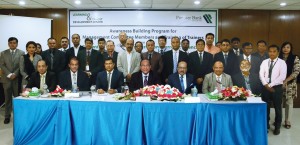 The Premier Bank Limited has raised its flag as the pioneer in the awareness building program for its Management Committee members on Anti-Money Laundering and Combating Financing of Terrorism in the banking industry. The Bank arranged a workshop to develop awareness among the MANCOMM members on Saturday 24th September 2016. All the senior members of the Bank were present in the workshop. The workshop comprised two sessions, MANCOMM members were present in the first session, which was an awareness building program and in the second session a Training of Trainers (ToT) program was conducted in order to develop the future facilitators. This ToT engaged participants in a comprehensive, day-long, activity based learning process that built the knowledge and skills required to effectively train the bankers who are ultimately responsible to increase AML/CFT control, effectively implement, mitigate the adverse effects of criminal economic activity and promote integrity and stability in financial market by Bangladesh Bank officio trained in the workshop. Mr. Khondker Fazle Rashid honorable CEO & Managing Director of the Bank was present in the workshop as Chief Guest & Adviser of the Bank Mr. Md Ehsan Khasru as special Guest.
Among others Mr. Abu Haniff Khan & Mr. M. Reazul Karim, The Additional Managing Directors with the participants and Deputy Managing Directors Mr. Syed Nowsher Ali & Mr. Sami Karim were also present in the workshop.