Premier Bank distributed Gift items to Hajj Pilgrims at Ashkona Hajj Camp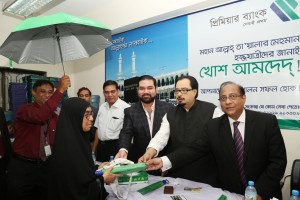 Premier Bank has distributed gift-items among the Hajj pilgrims at Bank's booth at Ashkona Hajj Camp recently. Mr. Mohammad Imran Iqbal, Honorable Vice Chairman of the Bank and Mr. B H Haroon, MP, Honorable Director of Premier Bank & President of Bangladesh-Saudi Arabia Parliamentary Friendship Group & also the Chairman of Standing Committee of Religion Affairs, distributed the gift items to the Hajj pilgrims as Chief Guest and Special Guest respectively. Managing Director & CEO of the Bank, Mr. Khondker Fazle Rashid was present on the occasion.
Among others Premier Bank Deputy Managing Director Mr. Shah Alam and others high Officials were also present on the occasion.