18th AGM of Premier Bank held at ICCB, Dhaka and 10% Cash & 2% Stock Dividend approved to the shareholders
The 18th Annual General Meeting (AGM) of the Premier Bank Limited was held on July 27, 2017 at Dhaka. Dr. H.B.M. Iqbal, honorable Chairman of the Board of Directors presided over the meeting. The Shareholders approved 10% Cash & 2% Stock Dividend stock dividend for the year 2016.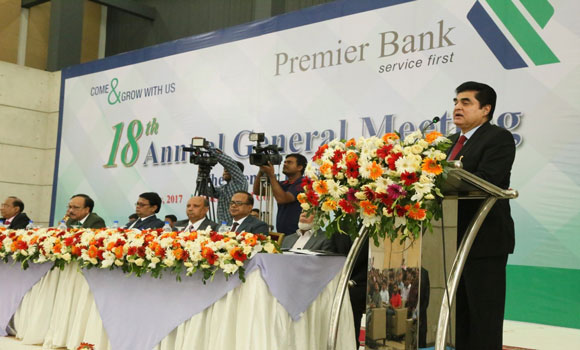 Dr. H. B. M. Iqbal, the Chairman informed the shareholders that during the year 2016 the Bank earned operating profit of Tk 332.02 Crore with growth of 69.12 percent. Total loans and advances stood at 11372.38 Crore at the end of 2015 against 9121.75 Crore in 2016 in yielding a significant growth of 24.67%. After detailed review, the shareholders approved the accounts & Directors' Reports and Dividend @10% Cash & 2% Stock Dividend stock dividend for the year 2016 in the form of Bonus Share. The Chairman appreciated the support of the Board members and the effort made by the management team to bring about improvement in the operations of the Bank. He also thanked & admired the valued customers of the Bank for their continuous support over the last couple of years. To meet the challenge of globalization, he advised the management to prepare a business plan for sustainable growth of the Bank. The Shareholders thanked Dr. H. B. M. Iqbal, the Chairman for his immense contribution to the Bank.
The Managing Director of the Bank, Mr. Khondker Fazle Rashid took part in the discussion and informed the Shareholders about various steps being taken to improve efficiency and to introduce new products and services. The Bank has already opened up a new horizon in the corporate world with the introduction of some sophisticated & cell phone oriented products. He said despite the turmoil in global economy the year 2016 was witnessed successful year for Premier Bank in terms of profit & turnover. As a dynamic institution, Premier Bank has always stressed on sustainable growth. During the year 2016 the Bank has given more consolidation in different segments of business and its relationship with customers which has been crystallized by its universal motto of "Service First".
Among others, Vice Chairman, Mr. Mohammad Imran Iqbal and others Directors of the Bank Mr. B. H. Haroon, MP, Mr. Abdus Salam Murshedy, Mr. Shah Md. Nahyan Haroon, Sponsor Shareholders Independent Director, Mr. Chowdhury Jafarullah Sharafat, Advisor Mr. Muhammed Ali , Consultant Mr. Md Ehsan Khasru, Additional Managing Director, Mr. M. Reazul Karim, Deputy Managing Directors, Mr. Syed Nowsher Ali, Mr. Shah Alam, Mr. SM Abdul Hamid, Mr. Shamsuddin & Mr. Sami Karim and Company Secretary(Acting) Mr. Mohammad Akram Hossain, FCS were also present on the occasion.